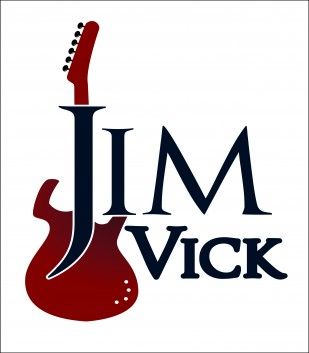 A veteran songwriter, solo performer, band leader, producer, and session guitarist, Jim Vick has received numerous arts and performance awards for his work in the U.S. and has shared the stage with many much bigger names in the music world. And though you may have already heard his music featured on the soundtrack of Taste the Islands, the Lifetime Network and American Public Television syndicated cooking show, or any of a number of independent and promotional films and other media works, you probably don't know him by name. Unless, of course, you've caught a live performance or stumbled across one of his independently released albums sometime in the past 35 years or so.
Beginning his career performing his original songs in Rochester, NY, Jim relocated to Madison, WI in the 80's and then to Seattle in the 90's. But for most of the last 15 years, Jim has continued performing regularly on the south Caribbean coast of Costa Rica in the little surf and ecotourism town of Puerto Viejo, Limon that has become his home, eiyh occasional summer shows in the U.S. His multi-instrument one-man-jam-band shows, solo and duo acoustic sets, and double looping duo and full band shows with former Skatalites jazz and reggae keyboardist Cameron Greenlee are featured at some of the area's best performance venues during the winter-spring high tourism season.
Since early in the Covid-19 pandemic, Jim has returned to highlighting his acoustic roots in creating his Live at Home videos of his new and previously unreleased songs and releasing them on his YouTube channel.  Still at work on production of his long in progress Bhakti Blue: The Rumi Songs, an album of new songs based on the Sufi poet's work, Jim's most recent album release, Punta Rasta, combines the reggae and calypso sounds of the Caribbean with bluesy guitar, Latin jazz, Afropop, and American folk in a musical "rondon" stew that one fan calls "Latin Americana."  It's available on disc and for downloading here and at most major online distributors, including iTunes, Bandcamp, and Amazon, and for streaming on Apple Music, Spotify, and Amazon Prime. Sign up for Jim's email updates above and you'll get links to free downloads of some of his newest tracks, including "That Caribbean Groove," his good times tribute to his new hometown you'll hear in the video above, as well as private links to live performance videos and exclusive previews of his works in progress. 
"Jim Vick's creative fusion of jazz-rock, folk, ethnic, and pop elements makes for some of the most refreshingly vital music to appear in sometime . . . a songwriter unafraid to take risks with both words and music." - Tom Bingham, OP Magazine
"an eclectic blend of folky jazz with a solid dose of world rhythms" - Kenny Hart, The Singing Songwriter and Indie-Music.com
"the thinking man's jamband" - Chris Armodida, Gida-Folk
Subscribe for FREE downloads